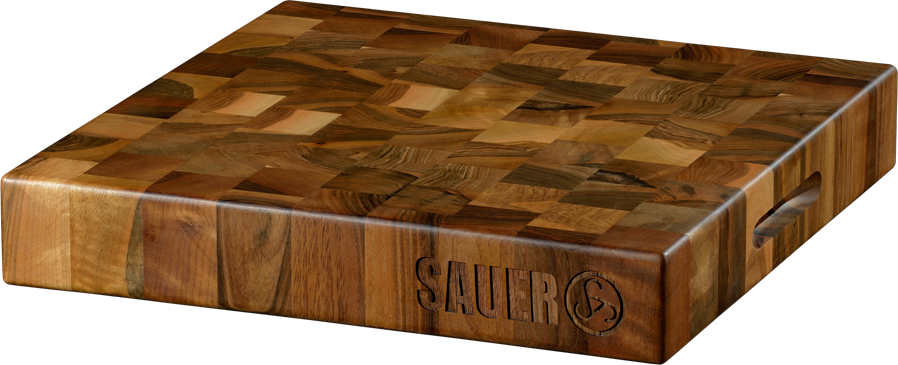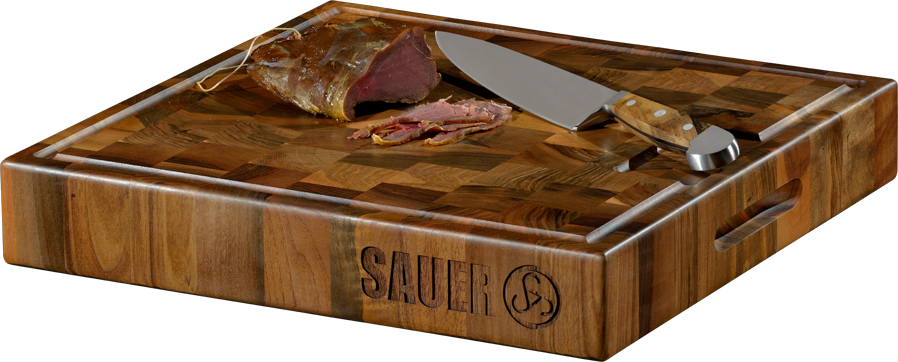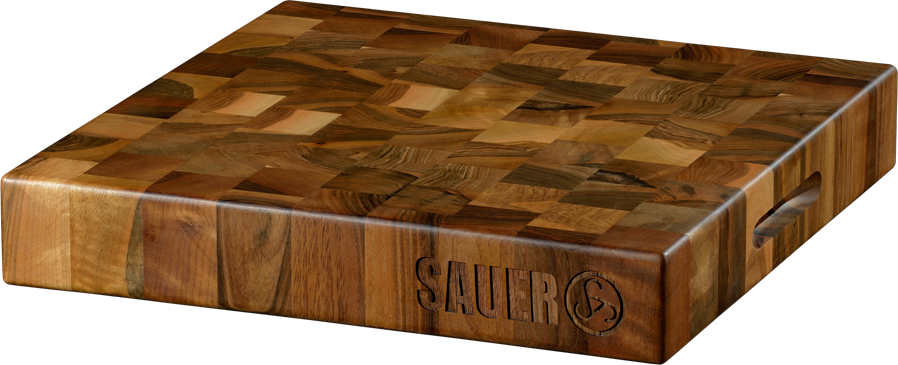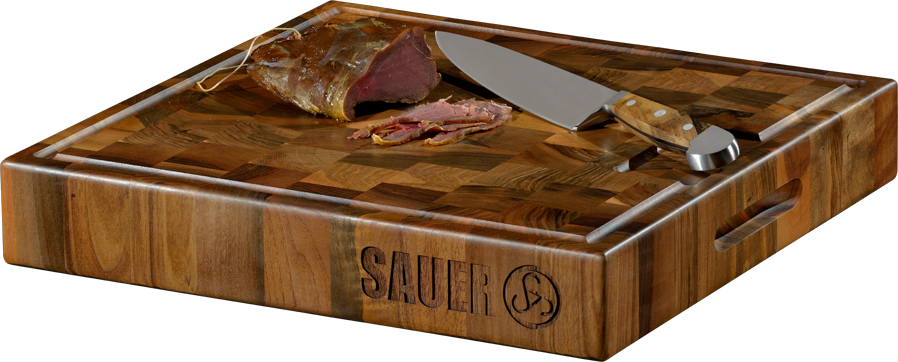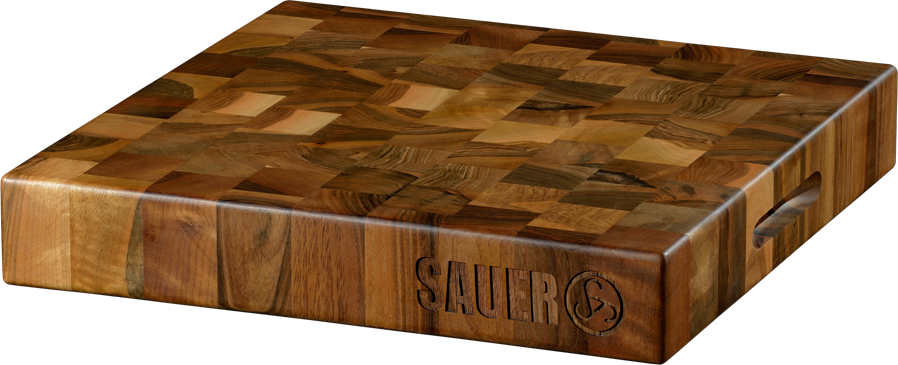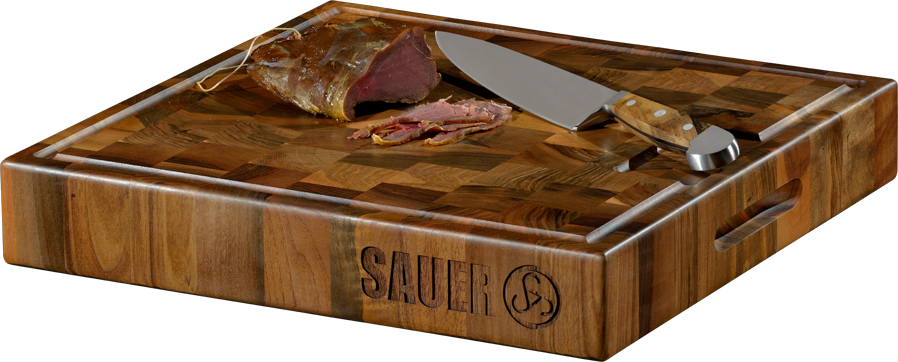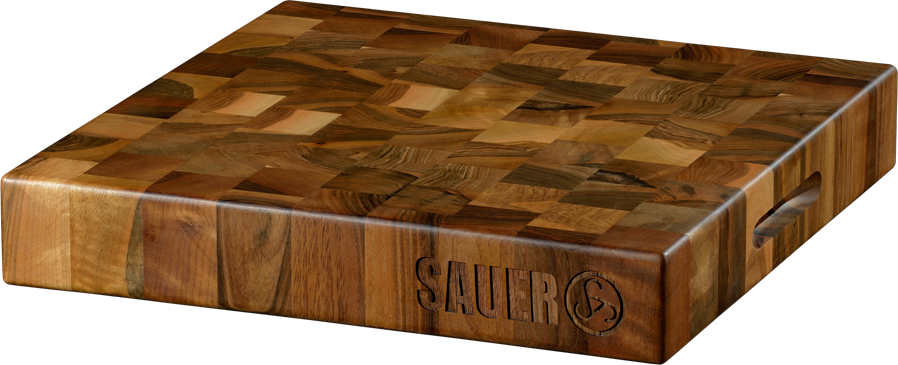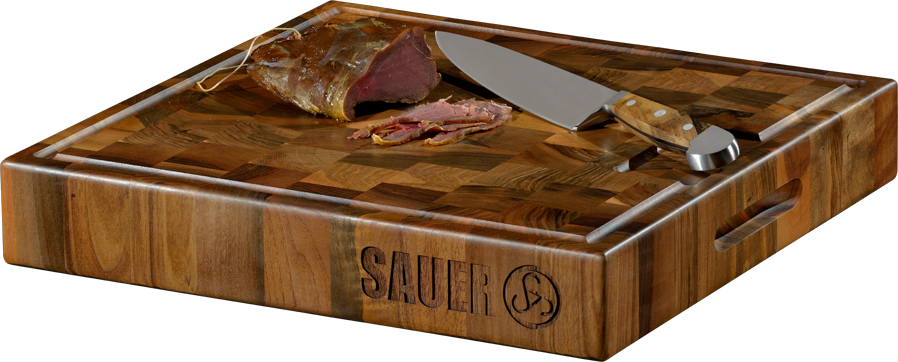 This product is currently sold-out
Only the best is good enough. In keeping with this maxim, we created the SAUER cutting block of precious Turkish walnut. The same wood that is used for the exclusive shafts of our SAUER INDUDIVUAL rifles. 81 cubes of end-grained walnut are firmly glued together to make a solid block of impressive dimensions: 45 cm x 45 cm x 7.5 cm (L x W x H) and a weight of approx. 11 kg. No wonder one thrilled hobby chef, upon receiving such a 'whopper', sent us this email: "This is the mother of all butcher blocks!"

The 'SAUER block' can be used on both sides. The top side with its meat groove is perfect for carving game, fish, poultry and anything that tends to 'drip'. The fully planed underside throws its weight about when it comes down to chopping vegetables or cutting bread and cheese.

The natural beauty of this 'wooden giant' with its rich colour hues from mustard, wild honey and gold to chocolate and its exclusive woodgrain make this board a must in every gourmet kitchen. Thanks to the unique construction of the wood cubes, very chopping block is a one-of-a-kind piece and not only an optical but also a haptic experience for its owner. The imposing design is rounded off by two high-precision SAUER logos branded in the wood.

Cleaning and care: Clean your chopping block by hand after every use. Use only a damp cloth and a mild detergent and dry thoroughly with a cloth or paper towel. For removal of tough stains use a cleaning solution of one part vinegar and one part water. NEVER leave your board soaking or immerse in water. NEVER put your board in the dishwasher.
Please oil your chopping block generously before using for the first time, being very careful to oil every side equally. Use a clean cloth to rub the oil in the direction of the woodgrain. For best results, allow to penetrate overnight. It may be necessary to oil the board more than once.
In case of spots and odours: Spots and odours can be easily removed with salt and lemon. Sprinkle the salt over the cutting board and rub it in with a lemon. Allow the mixture of salt and lemon juice to sink in for several minutes and then wipe the board with a damp cloth. Use a clean paper towel to remove any residue of water and let the board air-dry. In case of tough stains, you can treat the affected area with extra-fine sandpaper. Caution: Always sand in the same direction as the woodgrain and never against it. After sanding, apply several coats of oil.

Dimensions: 45 x 45 x 7,5 cm (L x W x H)

Weight: approx. 11 kg