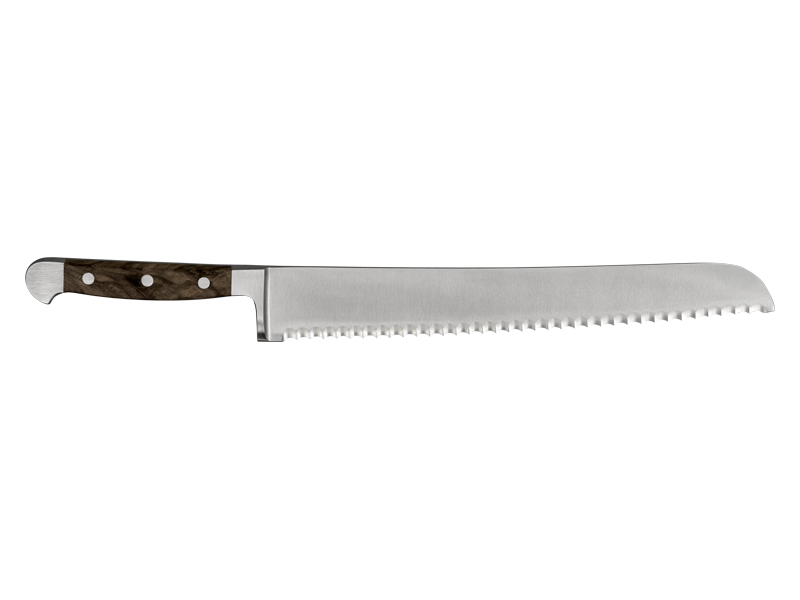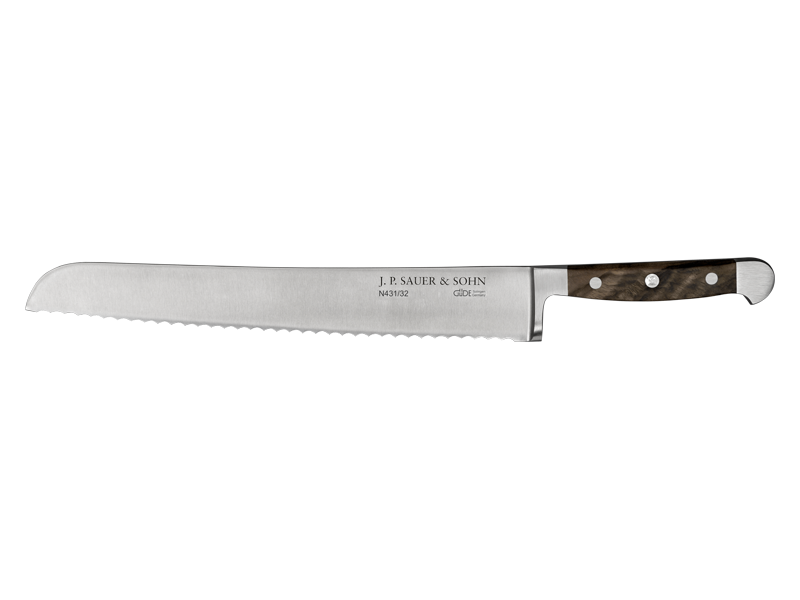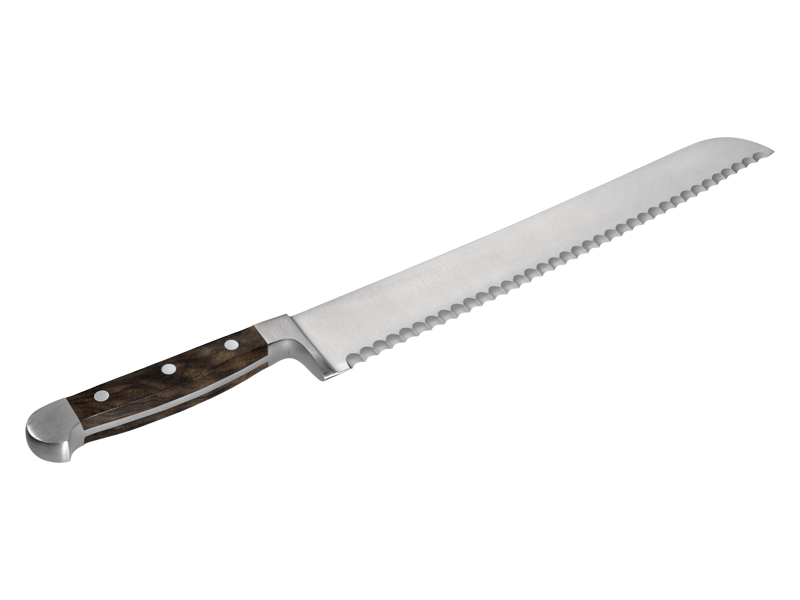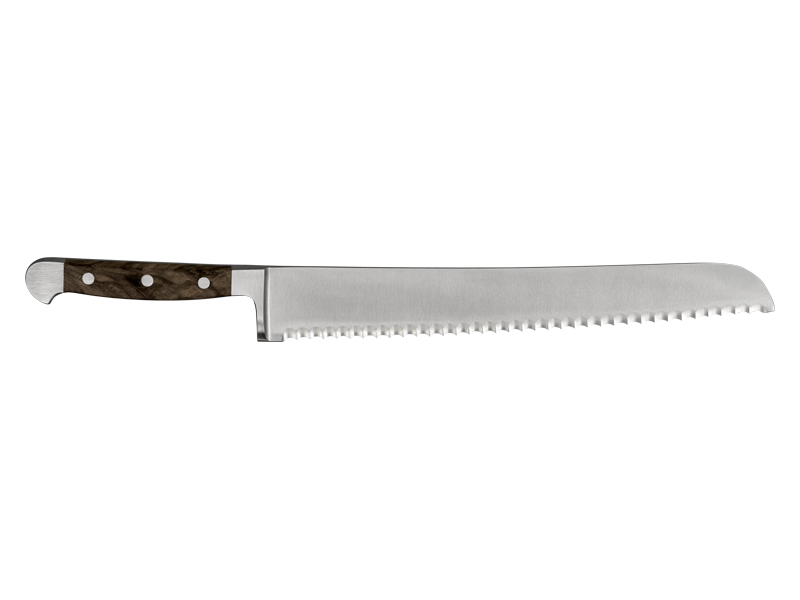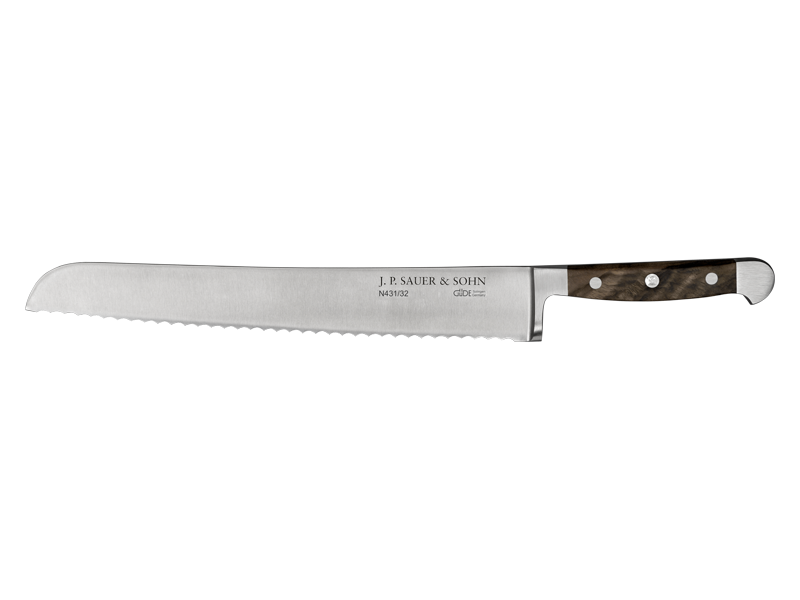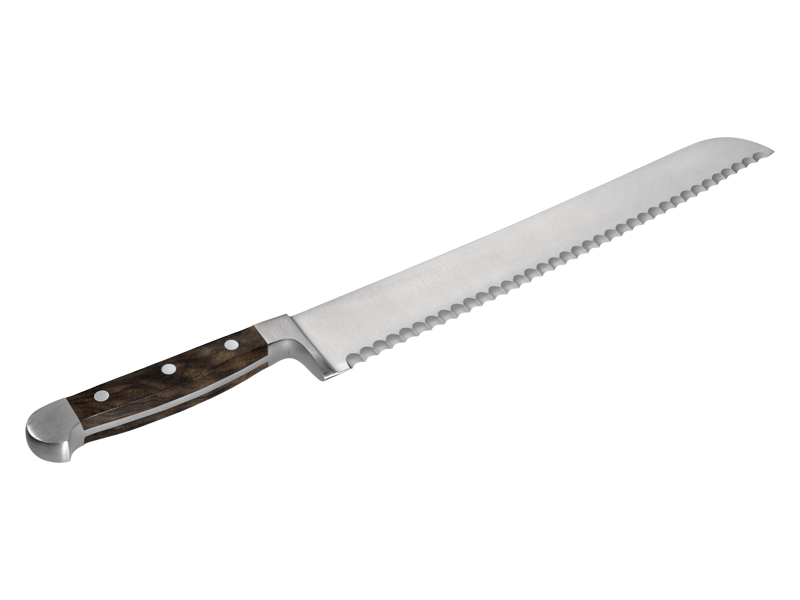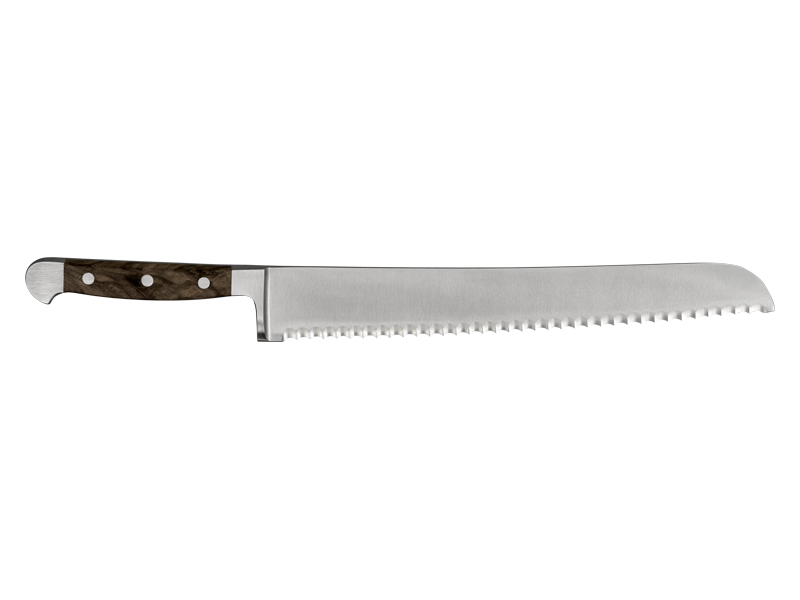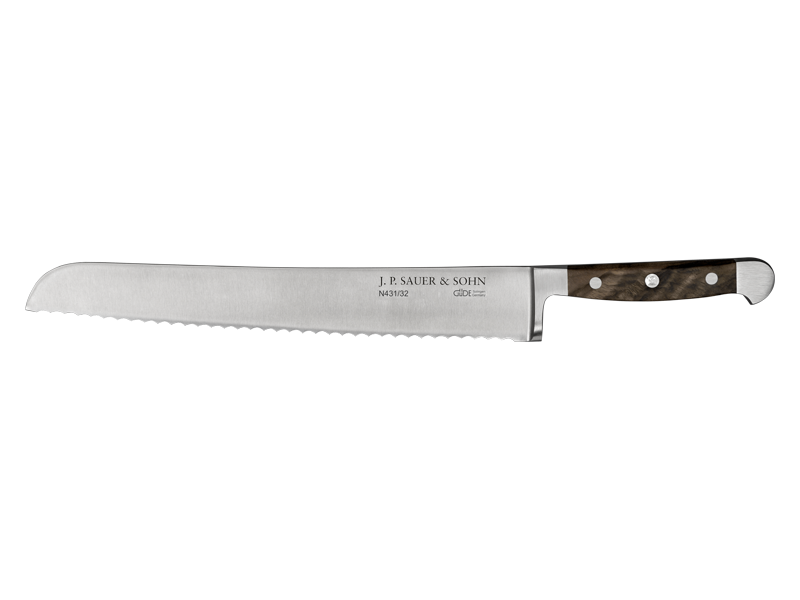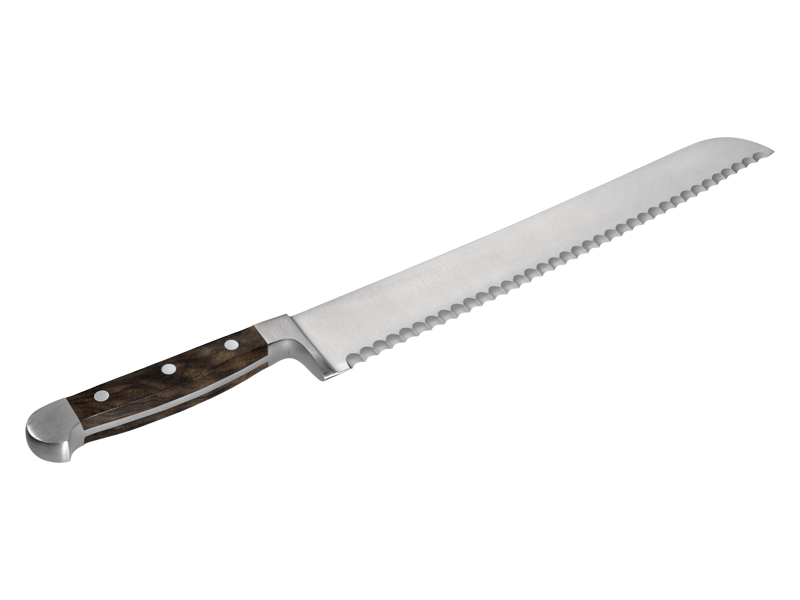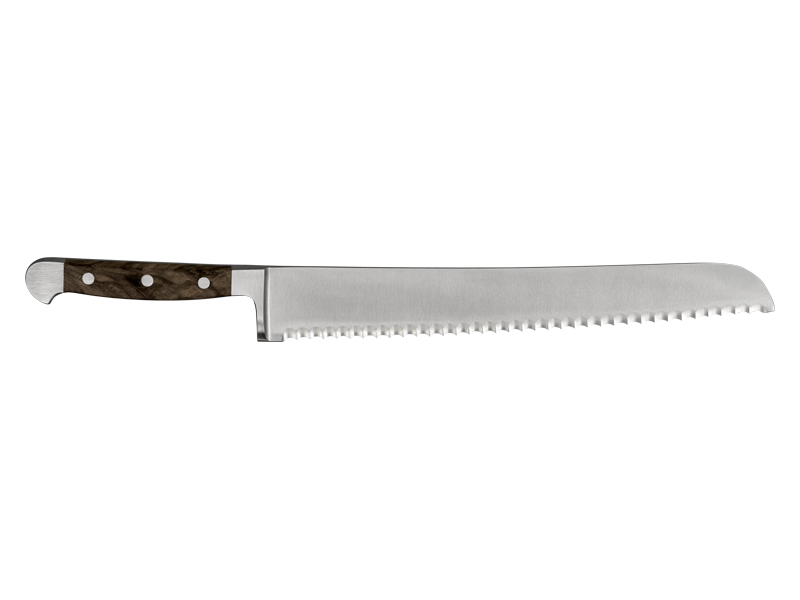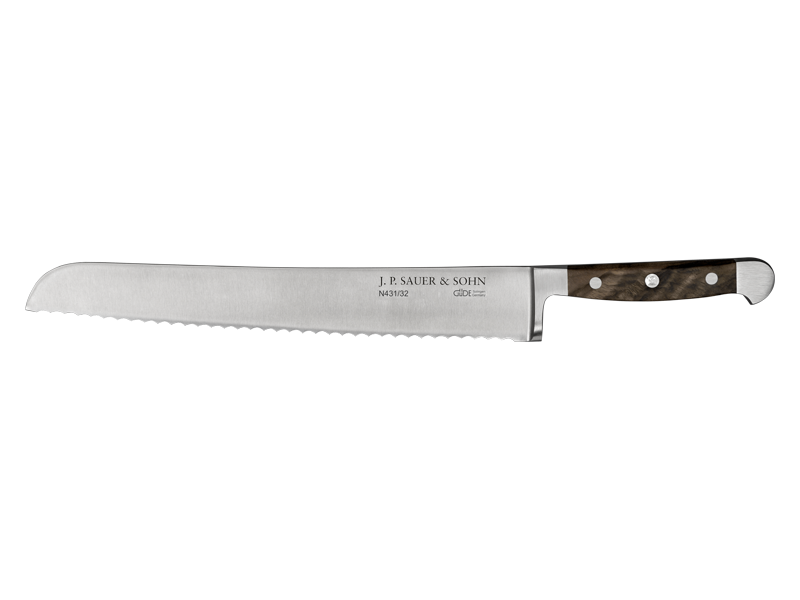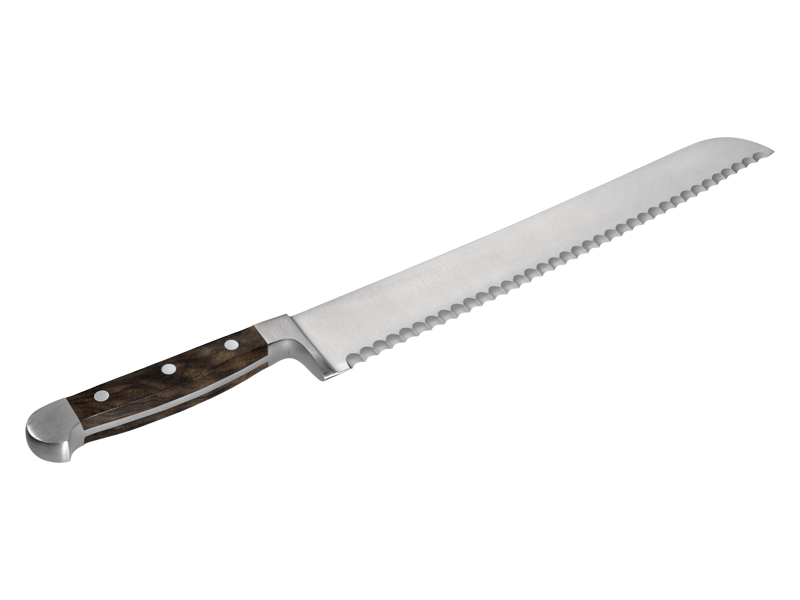 Ready to ship in 3–5 workdays
The new series of premium kitchen knives by GÜDE and J. P. Sauer & Sohn with grip scales made of the same wood used for the superior stocks of SAUER INDIVIDUAL rifles.

Solingen-based knife manufacturer GÜDE and J. P. Sauer & Sohn have teamed up to make the most elegant of all knives. The handles are made of Turkish walnut, the same wood used to make the superior stocks of SAUER INDIVIDUAL rifles. The result: a series in which every single knife is a unique piece of unparalleled excellence.
The hand-crafted blade is made of stainless chrome-vanadium-molybdenum steel. Drop forged in one piece from the tip to the butt, the knife is then ice-hardened, ground and sharpened by hand. The steel is hardened to 56 HRC, which increases the cutting ability and durability and makes resharpening quick and easy. These knives are handcrafted in more than 50 work steps.
Bread is a staple of every diet. So bread knives have always been an important kitchen utensil. The Sauer & Sohn bread knife is a full integral knife, measuring 45 cm from the butt to the tip of the blade and weighing 380 grams. The centre of gravity of the blade is 1 cm from the handle. The forged butt forms a heavy counterweight which ensures a knife with superior balance.
A loaf of fresh bread should be cut in a sawing motion and not squeezed by putting pressure on the knife. The considerable weight of the knife provides perfect control when cutting especially tough crusts. The size of the knife is the logical conclusion to its function. For bakers it is clear: "A proper loaf of bread can have a thickness of about 20 cm, so the blade of the bread knife has to be 10 cm longer to be able to saw through it comfortably." Franz Güde invented the Güde serrated blade with its special pointed teeth in the 1930s. And anyone who becomes the proud owner of a Sauer & Sohn bread knife won't have to worry about bread knives for the rest of their lives.
Instructions for care: Remember that high-quality walnut should not be put in the dishwasher. The water pressure, dishwashing salt and high temperatures can cause lasting damage to the grip scales. All stainless knives should be cleaned as they were made – by hand. It normally suffices to wipe the blade with a damp cloth. But you should be careful not to delay cleaning your knives after using them. Food remnants (e.g. lemon) can damage even high-quality steel. Please do not use acidic or abrasive cleaners to scrub your knives. The Sauer & Sohn bread knife may not be sharpened with a sharpening steel. Use the GÜDE resharpening service for keeping your bread knife sharp. If you look after it properly your Sauer & Sohn knife will reward you with a lifetime of service and enjoyment.
Blade length 32 cm

Overall length 45 cm

Weight 380 grams

Serrated blade

High polish

Walnut grip scales made of finest Sauer & Sohn shaft wood

Not dishwasher suitable

Made in Solingen (Germany)